Donate to our iTunes funds using the PayPal and Ko-Fi link below
Join us on streaming parties at Scener at 8pm - 10pm EST
Billboard Chart Information
| Chart | Criteria | US Only |
| --- | --- | --- |
| Billboard 200 | Album Physical Sales and Streams | Yes |
| Billboard Hot 100 | Single Sales, Streams, and Radio Play | Yes |
| World Digital Song Sales | Single Digital Sales for World genre songs | Yes |
| Digital Song Sales | Single Digital Sales - All Genres | Yes |
| Hot Trending Songs | Singles talked the most about on Twitter | No |
| Top Album Sales | Album's Physical and Digital Sales | Yes |
| Radio Songs | Single Radio Play | Yes |
| Billboard Global 200 | Single Streams | No |
| Billboard Global 200 Excluding US | Single Streams outside of US | No |
Intro
Buying vs Streaming
Paid Streaming Free Trials
Shazam
How to Get Ateez on US Radio
Spotify Tips and Tricks
Billboard Quiz
Tutorials
Amazon Music Buying Tutoral
iTunes Buying Tutorials
QoBuz PC Buying Tutorial
Spotify Playlist Tutorial - Mobile
Spotify Playlist Tutorial - Desktop
Spotify Tutorial
US Radio Master Thread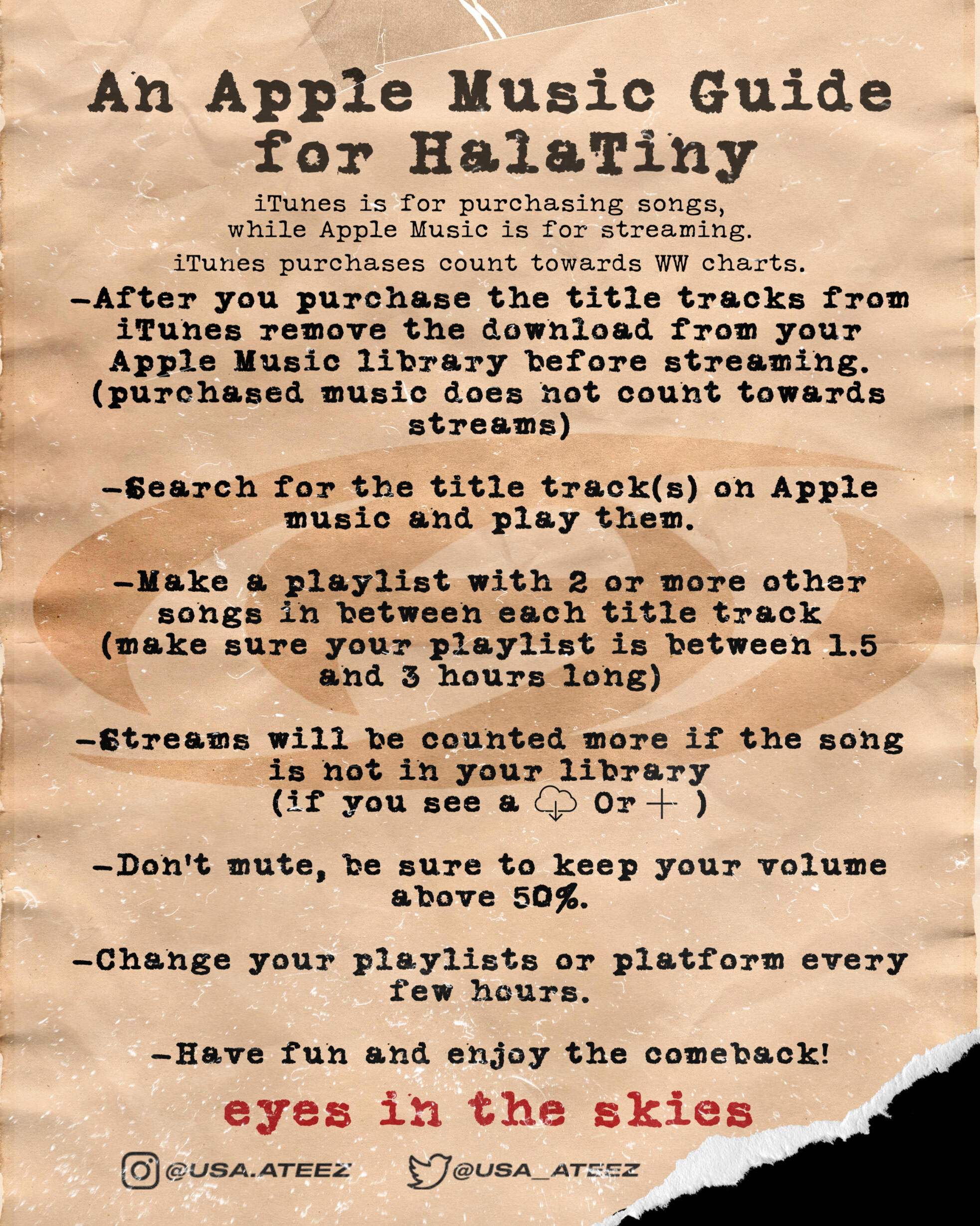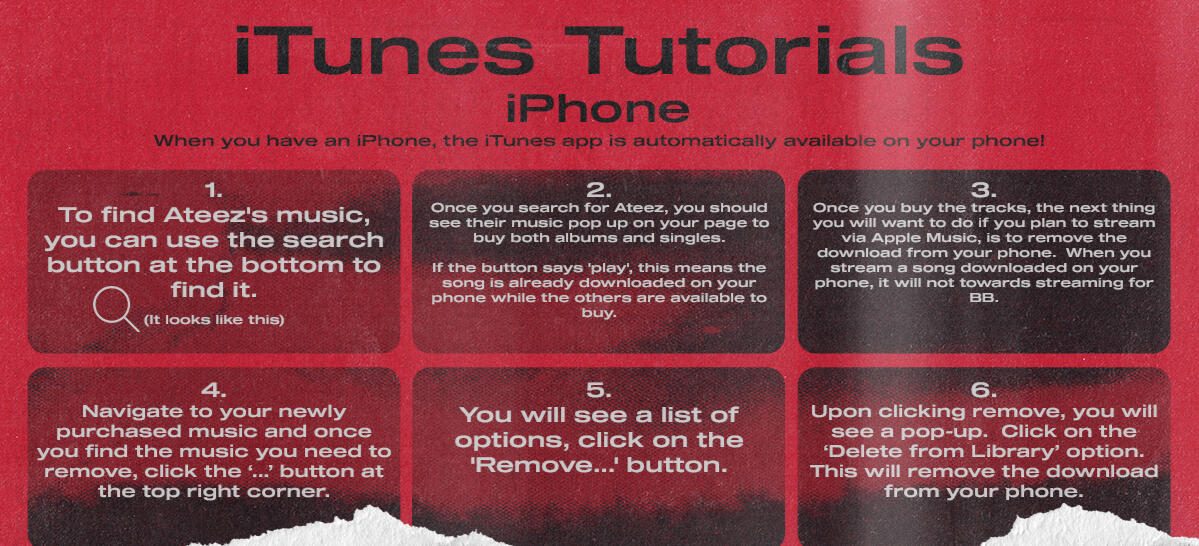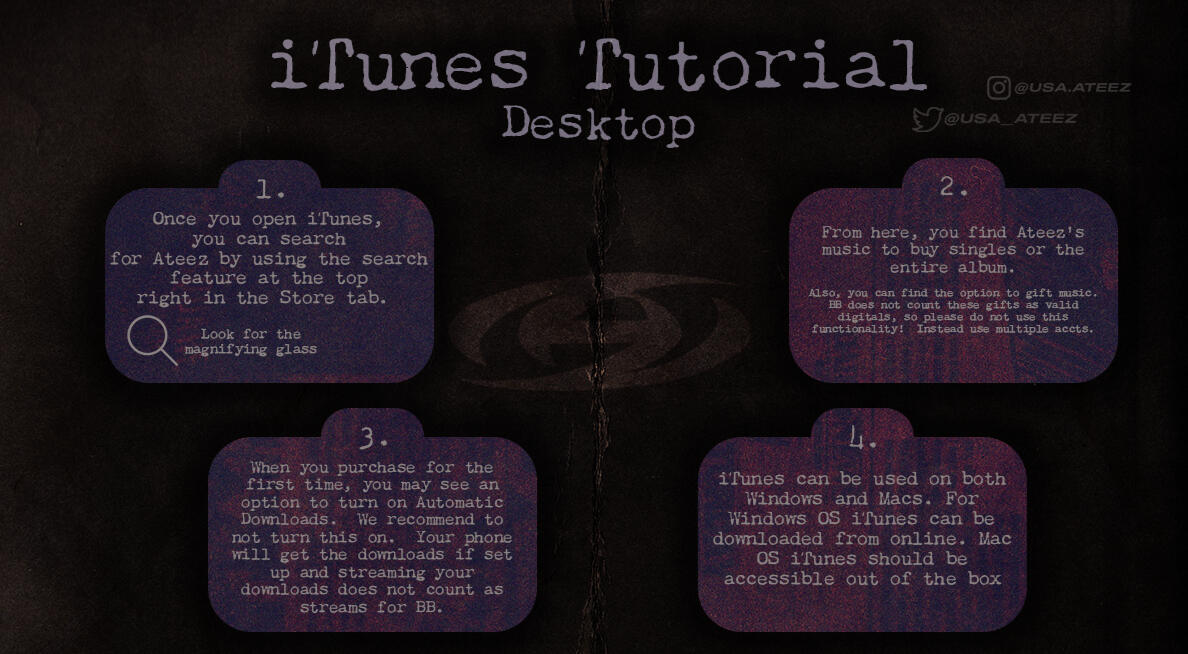 Comeback
| Digital Store | Buy on Desktop | Buy on Mobile |
| --- | --- | --- |
| iTunes | Yes | Yes |
| QoBuz | Yes | No |
| Amazon Download Store | Yes | No |
iTunes will be highest priority to buy from. If you are able to, please also buy from the other platforms.
DO NOT GIFT THE SONG OR ALBUM. It has been reported gifting albums and songs do not count for Billboard Charting because gifts are considered unsolicited.
Billboard will only count 1 copy per account FOR LIFE
Differentiate accounts by emails, credit cards, etc
Places to Buy Physical Albums from:
Hello82

FYE

Walmart

Barnes & Noble

Tower Records
We would prefer if you buy your albums from Hello82 or FYE. Hello82 and FYE count for both Hanteo and Gaon charts. You can only buy up to 4 albums at a time. If you buy more than that, your order will be invalid for BB charting.
Streaming Platforms for Billboard:
| | | |
| --- | --- | --- |
| Youtube | Spotify | Apple Music |
| Amazon Music | Deezer | Pandora |
| Soundcloud | Tidal | QoBuz |
Premium Streams count 3x as much as a free user. Please have Premium accounts set up for comeback. We recommend streaming on Youtube, Spotify, and Apple Music. On all platforms, you should be streaming the verified artist profile's music and not streaming fan uploaded music or videos.
| Music | Premium Streams | Free Streams |
| --- | --- | --- |
| Album | 1,250 | 3,750 |
| Song | 125 | 375 |
You can use playlists on all platforms except on Youtube. For streaming on Youtube, we recommend streaming manually.
USA Radio Guide
How Can I Help Get Ateez radio play?Whenever you Shazam, stream, and buy Ateez's music, you are helping Ateez's metrics in your area. The better Ateez's streams are in a local area, the higher chance Ateez can be played in that area. It is also important to request their music at your local stations.How is radio play counted for charting?Radio Play is counted by audience impressions. This is not strictly how many people listened to the song, but how many people were tuned in over a 15 minute time period. The more people who are listening when a song is played, the higher the impressions are.How do impressions play into charting?Audience impressions for radio stations are typically much higher during the morning and afternoon hours versus at night. This is mainly because people tune into the radio when they are commuting to work or riding in the car. The time the song is played can make a big difference in terms of impressions.What is the tracking week for radio for Billboard Charing?Same as Billboard Tracking, it runs Friday - ThursdayWhich stations count towards Billboard Charting?Commercial radio stations in the top 140 metro areas of the US count towards charting. Online only radio stations and non-profit radio stations do not count towards Billboard radio charting.How can I find stations to request Ateez music to?You can use our master list to find a station close to your area (
Radio Master List )
If your local area is not listed, you can also go to Radio Locator to find Top 40 stations in your area.When should I request?Ideally, you should request online if this is an option or by calling/texting into your local station when a live DJ is on. Check the website of your local radio station to figure out when they have live DJs.